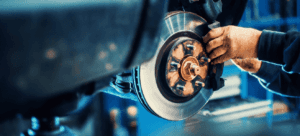 Affordable Brake Service Near Lebanon, TN
Today's drivers and auto manufacturers are taking road safety more and more seriously. And with a variety of safety-enhancing technology becoming increasingly advanced, most modern vehicles come equipped with all kinds of cutting-edge active and passive safety equipment and smart driver assistance features.
But the most important safety feature on any vehicle isn't any of these tech-savvy systems; it's the brakes. The foundation of any car's overall safety, brakes are a crucial component that you can't afford to overlook when it comes to keeping them in prime condition.
When your car's brakes are in need of service or repair, you'll want to visit a service center that you can trust to take good care of your car and ensure that everything is done with your safety as the top priority. For drivers in and around Lebanon, TN, that place is Wilson County Chevrolet Buick GMC. Our experienced automotive technicians know all the ins and outs of your vehicle's brake system and how to get it working the way it should.
When you schedule brake service at our auto care facility, our expert technicians will do a thorough inspection and tell you exactly what your car needs to get back on track with road safety. Don't wait another day to take care of this crucial service.
How Do You Know If Your Brakes Need Service? 
Signs that your car's brakes need service are usually pretty easy to identify. Still, trust your gut, and if something feels "off" to you, don't hesitate to take your vehicle in for a brake inspection. Additionally, be on the lookout for these signs and symptoms that may mean you need new brake pads, rotors, fluid, or another easy but essential fix.
Here are some of the most common signs that your brakes need attention:
Squeaking, squealing, or screeching sound when you press the brake pedal
A grinding sound or sensation when you apply the brakes
Vibration or shaking
Decreased brake responsiveness
An illuminated brake light
Any of these signs require a quick trip to your service center for an inspection and any necessary brake work so you can go safely on your way. Wilson County Chevrolet Buick GMC is ready to take care of it for you!
Schedule Brake Repair Near Lebanon, TN
You can't afford to put off brake service, so don't hesitate to make your appointment at the first sign of trouble. Wilson County Chevrolet Buick GMC makes it extra convenient to lock in a time that works with your busy life. Simply visit our website and choose a date and time for your appointment.
Then trust our service pros to get the work done quickly and affordably, so you can continue all your daily travels with the peace of mind you deserve.